Residential Models & Mobile Home Models
Soft White
Powder Coat, Scratch Resistant
Finish to Compliment any Decor

Direct Vent Safety

The gas flame is completely sealed inside, away from all contact with room air.
Air necessary for combustion is drawn into the chamber from outside through direct wall vent, and all combustion products are vented directly to the outside.
No room air is used for combustion

Also has Pietzo Spark Pilot Ignition
Matches not necessary to light pilot

* No Electricity Needed

| | |
| --- | --- |
| 14,000 BTU Model | 22,000 or 30,000 BTU Model |

x

Direct Vent Heaters

Venting Material Comes With Heater
For up to 9" Wall Thickness
Optional Vent Extension Kits Available
For up to 24" Wall Thickness
Must be Installed on Outside Wall
This Model Clips to the Wall About 4" Above The Floor

THIS HEATER CANNOT BE RECESSED IN THE WALL
Pricing Below Is Your Cost
Does Not Include Shipping

Residential Models Shown Here Are Our Normally Stocked Items
For Installation up to 4,500' Elevation


For Use Above 4,500
High Altitude Kit - Factory Installed - Is Required
This is a "Special Ordered Heater"
At Additional $100 Cost

Direct Vent Residential Home Furnaces
Not Certified For Mobile Home Use

Chamberlain Heaters

Current Pricing

Residential Models Pricing Below
Not Certified For Mobile Home Use

Standing Pilot Models Only

~ PLEASE CONTACT US FOR ANY AVAILABLE DISCOUNTS FOR ONE OR MORE UNITS ~

Free Shipping For 14,000 BTU Model Only via Regular Ground

14,000 BTU Models Only

Thermostat Included With Heater
All Chamberlain Heater Thermostats Can Be Cabinet or Wall Mounted

Natural Gas

Propane Gas

BTU Input

Thermostat

Shipping
Weight

Your Cost
* Free Shipping

1403622

1403621

14,000

Wall / Cabinet

56#

$658 *

* 14,000 BTU Models Only Can Be Shipped Via FedEx Ground

Because of Physical Dimensions - 22,000 BTU & 30,000 BTU Models Below
Must Be Shipped VIA Motor Freight Carrier

Thermostat Included With Heater
All Chamberlain Heater Thermostats Can Be Cabinet or Wall Mounted

Natural Gas

Propane Gas

BTU Input

Type of Control

Shipping
Weight

Your Cost
Shipping Not Included

2203622

2203621

22,000

Wall / Cabinet

98#

$715

3003622

3003621

30,000

Wall / Cabinet

100#

$763

e-mail

For Your Exact Total Cost Including S/H For 22,000 BTU & 30,000 BTU Models

Venting Material Comes With Heater

For up to 9" Wall Thickness

Owners Manual
Installation & Operating Instructions

Optional Vent Extension Kits Available For up to 24" Wall Thickness

Special Order From Factory - Scroll Down Page For Cost

All Models Above Are Direct Vent Heaters. They Clip Onto The wall.
The Heater Vents Out The Back.
Venting Material Is Included In Price For up to 9" Wall Thickness

Click Here For Rough In Dimensions
22,000 & 30,000 BTU Models Pricing Above
Does Not Include Shipping


Click Button Below
For Your Personalized Exact Cost
Including Shipping/Handling

Be Sure To Include The Heater Model
And Your Zip Code To Get Your Total Cost

We Confirm Total Cost On All Orders Prior To Shipping
Optional Blower Accessory for Direct Vent Home Furnace



2302 Blower Accessory Rear View

2302 Blower Accessory Front View

Model 2302
$148
Shipping Not Included

High Capacity Blower
Comes With Fully Automatic Fan Switch
Fits Inside Casing And Is Easily Added
22,000 & 30,000 Btu Furnaces Only

115 Volt Electricity Required

Model 2303
$128
Shipping Not Included

High Capacity Blower
Comes With Fully Automatic Fan Switch
Mounts On Top Of Heater
14,000 Btu Furnace Only

115 Volt Electricity Required
Installation Instructions

Optional Vent Extension Kits Available
For up to 24" Wall Thickness Below
Special Order From Factory

9301

15" Vent Extension for 22,000 & 30,000 BTU Furnace Only

$ 104
Free Shipping

9302

24" Vent Extension for 22,000 BTU Furnace Only

$123
Free Shipping

9303

24" Vent Extension for 14,000 & 30,000 BTU Furnace Only

$123
Free Shipping

9304

15" Vent Extension for 14,000 BTUFurnace Only

$ 104
Free Shipping

Installation Instructions

4318

Vent Shield For Use With Vinyl Siding

$81
Free Shipping
Specifications

14036 Series

22036 Series

30036 Series

BTU Output

10,039

16,462

21,849

Previous Model

14 DV

22 DV

30 DV

Dimensions

18" W x 26 3/4" H
7 1/8" D

32 1/8" W x 28" H
10 1/4" D

32 1/8" W x 28" H
10 1/4" D

Gas Connection

1/2"

1/2"

1/2"

Thermal Efficiency

76%

75%

73%

AFUE

63%

67%

66%

Minimum Recommended Clearances Below

14036 Series

22036 Series

30036 Series

From Intersecting Wall

2"

2"

2"

From Top Of Heater
To Ceiling or Other
Obstruction

18"

24"

24"

18" From Centerline of Vent Cap Outside on All Sides
Excellent Garage or Shop Heater
No Flame is Exposed to Room Area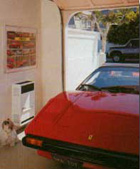 Direct Vent Safety

For clean & comfortable heat
when & where you want it

The gas flame is completely sealed inside, away from all contact with room air.

Air necessary for combustion is drawn through the chamber from outside through direct wall vent, and all combustion products are vented directly to the outside.

Only clean gentle heat is delivered into the room.

Windows & doors can stay closed because no room air is used for combustion.
We Accept All Credit Cards

PayPal is Preferred

Contact Us
At the Address Below

Use e-mail address below for Inquiries, Questions & Quotes


Please Use Phone To Place Orders Only


We Reply To All E-mail Requests
Our Replies Include Our Phone Number And A Personal Contact

Privacy Statement:

We will never sell, rent, or otherwise provide your e-mail address to any other party




K & S Sales
151 S. Indian Meridian
Guthrie , OK 73044

Rita Newsom
Owner

Phone (405) 586-9191
Order Entry Only






For Information or Quote
Click Here to E-mail us

sales@kennspenns.com






Copyright � 1999 KennsPenns All Rights Reserved